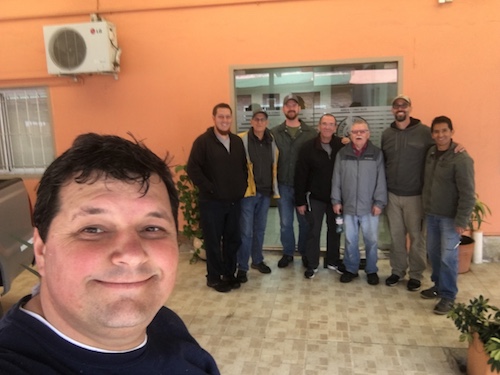 September 22-October 6, 2019
       Registration Cut-off: July 15, 2019
     The Global IT team has been invited by the South America Region to upgrade the network infrastructure at the Regional Office in Pilar, Argentina.  This project has been expanded to include the Seminary in Pilar, Argentia and the ConoSur Field Office.
The project will include:
Replace aging access points and switches

Replace the point to point system with a mesh system that will provide campus wide internet for missionaries and staff

Upgrade the firewall

Install wifi in the Bruno Radi Conference Center
Provide consistent wifi to all the missionaries, staff and students at those sites.
This work will help the office administrate the ministries of South America and provide internet access to the missionary families that live in the office area. In addition, the Regional Office houses the School of Leadership, which provides training to pastors and leaders from around the Region. Increasing the internet access will help the school train leaders on site and through video conference.
Update: November 2019
The project went wonderfully well.  The Regional Office, Seminary, ConoSur Office and the Conference Center have campus wide wifi and solid network infrastructure.  The equipment was put to the test during the South America Regional Conference (https://www.nazarene.org/article/his-power-south-america-nazarenes-challenged-regional-conference) and it worked well.
Seminary President Jorge Julca sent us this wonderful note:
Greetings from Argentina,
I want to thank you all for your valuable help!  The Work and Witness team that visited us in October this year helped our seminary immensely.  We have been developing our Virtual Modality program and technology is vital to fulfilling our mission with excellence. We currently have more than 1,000 students at the Seminary.  Last Saturday at our Graduation, 41 people received their academic degrees!  Many of them completed their degrees through online courses. Without your help, this would not have been possible.

I give glory to God for people like you who surrender their professions, experience and capacities to the Lord for the development of His Work.

Thank the Lord for belonging to a global church with a missionary heart. You are part of our seminary family in the Southern Cone and we want you to know that together we are fulfilling God's mission.

Blessings in Christ,
Jorge L. Julca
Thanks to all of those who prayed for us, gave toward the project and helped with the work!